Back In Action Wellness Center Team
We Get You, Back In Action
At Back In Action Wellness you will find a team of professionals who care about the health and wellness of our patients. It is our goal to be attentive to all of your needs and provide superior service, the same service that has aided in the magnificent wellness results in all of our past patients.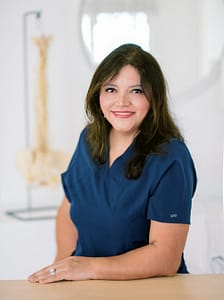 Doctor of Chiropractic, Certified Acupuncturist
EXPERIENCE, EDUCATION, CONSIDERATION AND CARE.
Board Certified by the National Board of Chiropractic Examiners in Chiropractic and Acupuncture. In practice since 2001, Dr. Santoliva has extensive clinical experience, with more than 10,000 satisfied patients.
Graduated from National University of Health Sciences/National College of Chiropractic, a top-tier, accredited, chiropractic college. Under Dr. Santoliva's care, patients experience healing from pain and restore freedom of movement. The inspiring results her patients have experienced were often not achievable using surgery or medications. 
Dr. Santoliva, Doctor of Chiropractic (D.C.), has extensive medical training and clinical experience in chiropractic and acupuncture. She diagnoses and treats the root causes of patients' back and neck pain to promote enduring spine health and life-long wellness.
I love to help people feel great about how they are living!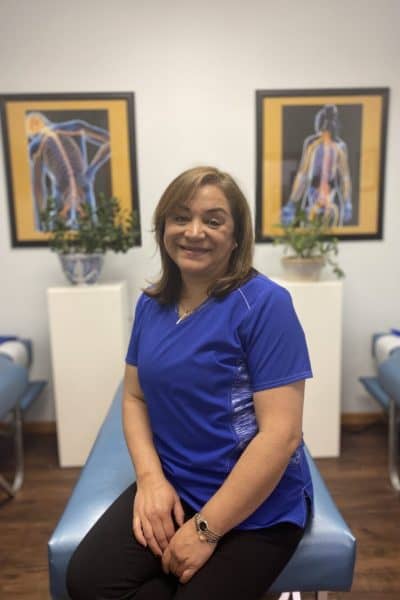 Licensed Massage Therapist (LMT, LE)
Krushenka Miller, LMT, LE is a vital part of our wellness team. She approaches patient care holistically, by providing the benefits of therapeutic massage in combination with chiropractic and related therapies offered at Back in Action Wellness Center, so patients can get back in action as soon as possible.
From stress relief to specific injury and soreness issues, Krushenka employs her extensive practical knowledge of human anatomy. She practices light to deep pressure therapeutic massage with great sensitivity to each patient's personal preferences and needs for relaxation and healing. She incorporates stretches, myo-fascial, trigger point and selected Eastern (Shiatsu) principles and techniques into her sessions as needed by each patient.
Krushenka has already helped over thousands of satisfied patients. She treats patients of all ages.
Chiropractic Assistant (C.A.) and Office Manager
Karina Chionis, C.A. helped Dr. Santoliva open Back in Action Wellness Center in 2004, and serves as Chiropractic Assistant and Office Manager. She has had extensive clinical training under Dr. Santoliva's direction for over 10 years. More than 15,000 patients later.
Patient Wellness Support
Karina encourages patients to get the most from their treatment plans. She focuses on wellness maintenance by supporting patients to perform physical therapy exercises prescribed by the Chiropractor and Massage Therapist to strengthen muscles, increase range of motion, and restore the body's structural integrity. She also follows up with patients on key aspects of treatment plans including prescribed diets and nutritional supplements, and at-home and in-office exercise regimens.
Chiropractic Assistant Role
In her role as Chiropractic Assistant, Karina assists with patient therapies and performs preliminary exams. Karina records patient health conditions, treatment plans and progress. She makes sure Dr. Santoliva is made aware of patients' questions and concerns. She informs patients about the many different ways Back in Action Wellness Center can help to restore movement, pain free and maintain wellness so patients will be as healthy as possible.